It was the brainstorm of mine and a co-worker named Mike Hammil (not to be confused with Mark Hamill of Star Wars fame). It was the second or third annual Free Wheeler anniversary party that my parents had given up their home to. We wanted it to be something special, since we were pretty happy the business had made it that long.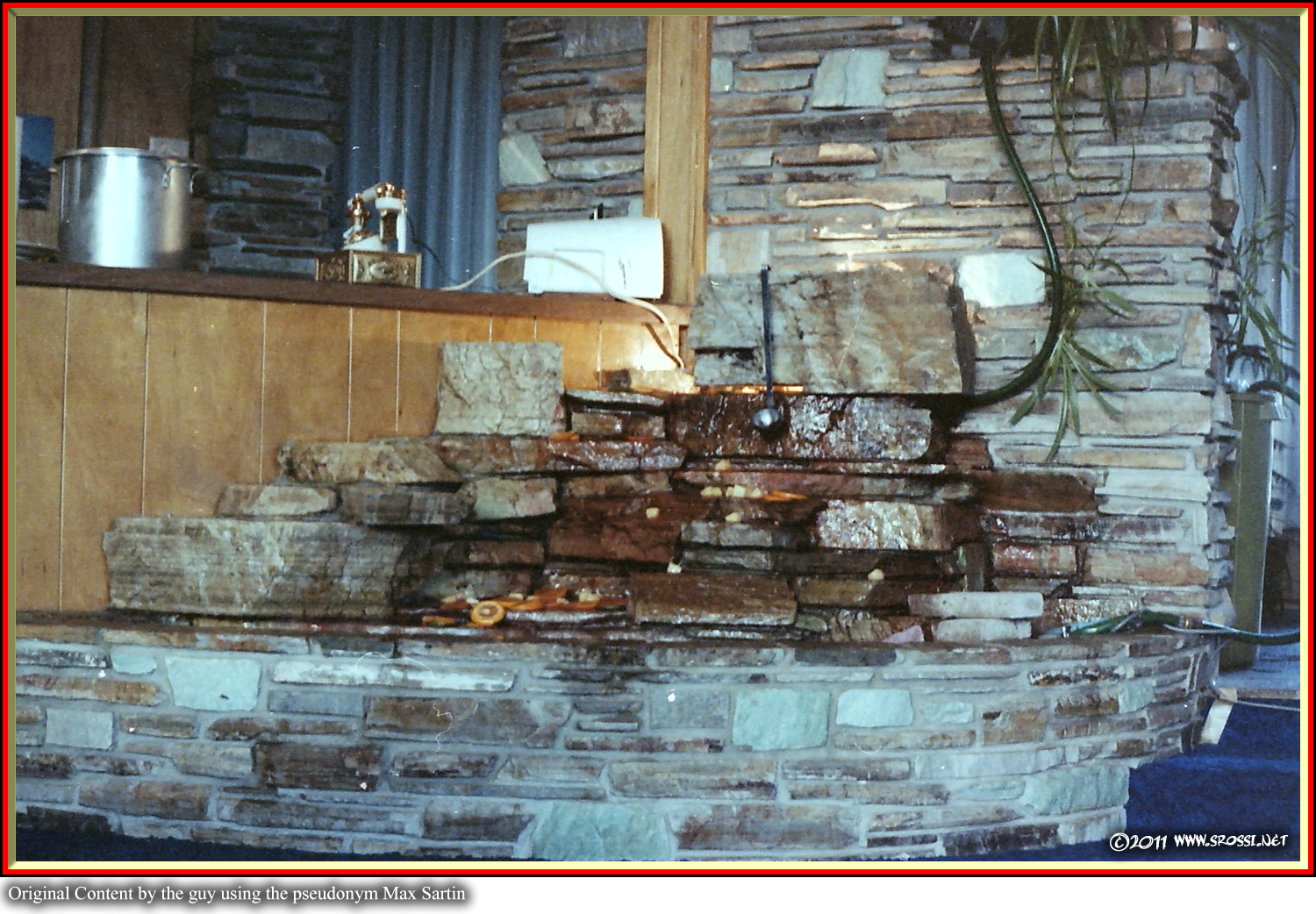 My parents used the rock waterfall in the living room for plants. We had never ran water through it, but Mike and I figured that since it was designed for that, we should be able to make it work again. But what fun would water be? Especially when we could clean it up, sterilize it and run Jungle Juice* down it. I was 21 or 22 and despite being raised by incredibly liberal parents, surprised when I was able to talk my mom into it.
Mike and I moved all the plants, cleaned the rocks and put several coats of polyurethane over them. Even dry it gave them a glossy, wet look. Then we got a pump and a garden hose and ran it from the trough at the bottom, around the wall and over it, emptying into the small trough at the top. We started with 15 gallons of Hawaiian Punch, a couple of industrial cans of pineapple chunks, in their own juice, and several bottles of, I think it was rum. Cheese cloth kept the pulp from getting into the pump, and once we got it going we had to add another 5 gallons of Punch. We had 2 or 3 backup buckets of punch to replenish as the night went on.
We sliced up lemons, oranges and limes and placed them artistically (se we thought) on the rocks and floating in the trough. Everyone invited was instructed to bring whatever bottle[s] of booze they had laying around the house and pour them into the trough upon arrival.
The best part about it was the next morning when two young ladies commented that they were surprised because they didn't want to get drunk so all they did was eat the pineapple out of the trough.
Want to see more "Drink up" photos, and maybe even enter one of yours? Then click on the banner below.
*Jungle Juice: The base is Red Hawaiian Punch, add any and all types of fruit juice to it, then add any and all types of liquor to it. Mix thoroughly. Plan on staying the night.